How long will I have to wear braces?
It's one of the first questions many teens ask: "How long do I have to wear braces?" The exact length of treatment depends on several important things, including:
Early Treatment: For some patients, two-phase treatment is needed, and whether you had early treatment or not can impact the amount of time you need to wear braces. In the first phase of the treatment, Dr. Gellerman helps the jaw develop better, which can put you in better position for effective straightening with braces later. Early treatment can happen as early as age 7.
Correction Needs: Your correction needs can have a major impact on total time in braces. If you need complex straightening, it may take longer, while minor alignment issues generally require shorter time in braces. Some teenagers only need 12 months in braces while others can take up to 24 months.
Your Participation: Your participation is a big part of braces success, so it plays a role in total braces time, too. Be sure to follow all of Dr. Gellerman's guidelines and recommendations and see Dr. Gellerman for your check-up appointment on time to make sure you wear braces for the shortest time possible.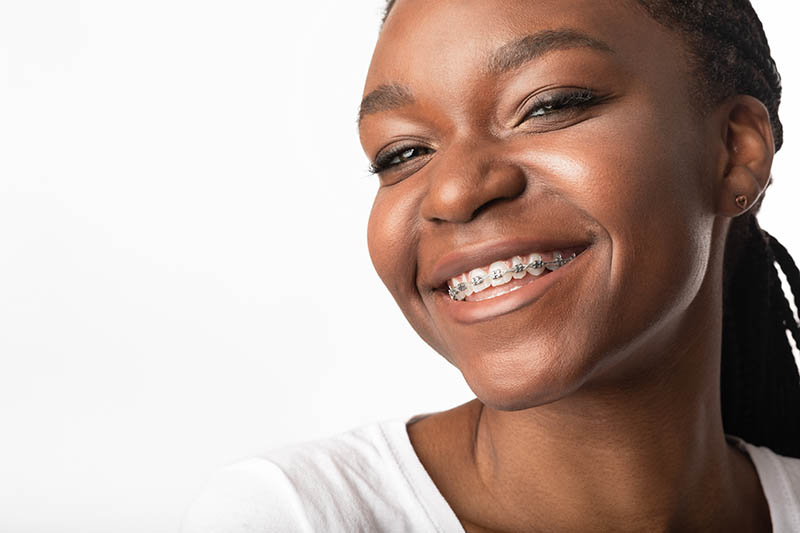 The Gellerman Method
As a top-ranked orthodontist with extensive post-graduate training and years of experience, Dr. Gellerman has unique skills and abilities that allowed her to design a specialized plan for teen braces, The Gellerman Method.
The Gellerman Method is highly customized for the individual patient. She uses a combination of detailed photos and 3D digital X-rays to formulate an individualized plan that will give you optimal results — and a stunning smile! The Gellerman Method offers some tremendous advantages, including:
It's as much as 40% faster than other teeth-straightening methods
It's painless
Less appointments than with other methods
Focus on keeping healthy teeth whenever possible
Emphasis on creating attractive facial aesthetics, as well as a beautiful smile
Treatment that's fully customized based on your busy lifestyle
Dr. Gellerman expertly combines science and art to give you a beautiful smile, in the way that suits you best.
Treatment Options
In addition to traditional metal braces, Gellerman Orthodontics offers a number of other braces options for teens, including:
Invisalign: clear plastic aligners that move your teeth gradually
Damon Braces: tie-free braces that don't use rubber bands, puts less pressure on your teeth and requires fewer check-ups
Incognito Braces: also called lingual braces. The brackets are attached to the backs of your teeth, so the front of your teeth is metal-free.
Ceramic Braces: ceramic braces have brackets that are either tooth-colored or clear. Many teens like this option because they're nearly invisible.
Dr. Gellerman will help you choose the perfect braces option so you can get ideal results in the shortest time possible.
Oral Hygiene With Braces
Before you brush, always do a quick rinse with water or mouthwash. This helps loosen any debris around your brackets and wires. Use a special tool, a tiny disposable interdental brush, to clean between the brackets. Then, use a soft-bristle toothbrush to carefully brush your teeth. A 45% angle is the best way to dislodge debris. Be sure to brush your gum line gently, too.
Flossing is the next step. Dr. Gellerman may recommend floss threaders, which are special disposable flossers that make flossing under and around wires easier. Finish your oral care with another full-mouth rinse using water or mouthwash.
Foods to Avoid with Braces
Foods to avoid with braces will vary depending on the type of braces you have. With Invisalign, there aren't any restrictions because you remove your aligners to eat. Hot water can warp the aligners, and juice can stain them, so it's important to remove them every time you eat or drink.
With traditional metal braces, ceramic braces, and other types of orthodontics that include metal, it's important to avoid foods that could damage, loosen, or break the metal. Avoid hard, sticky, crunchy, and very chewy foods, and stay away from anything you have to bite into, such as corn on the cob.
You can actually eat most dairy, bread, pasta, fruits, veggies, meat, seafood, and treats when you have braces. It will probably be less of an adjustment than you think, and you'll be back to eating all of those challenging foods fast.
Sports with Braces
Braces don't have to prevent you from living a full life, sports included! Dr. Gellerman recommends wearing a mouthguard to cushion and protect your teeth during all contact sports for your safety. She can help you choose the best mouthguard for your situation.
Cost of Braces
Many parents wonder about the cost of braces for kids and teens. The exact cost can vary based on what type of braces your child needs, how long the treatment lasts, and other factors unique to the circumstances. Dr. Gellerman is glad to meet with you and your child for a consultation so she can give you a cost estimate.
Call Gellerman Orthodontics, or reach out online now, to schedule your appointment!