Why Invisalign?
There are a number of reasons that so many adults are saying say "yes!" to Invisalign today, including:
Aesthetics:
Invisalign teeth straightening can give you incredible results, without marring your appearance. The aligners are clear thin plastic that fits your teeth snugly. This makes them practically invisible.
Comfort:
When it comes to comfort in teeth straightening, you can't beat Invisalign. The smooth plastic won't hurt your delicate mouth tissues, and there's no wire to break off or poke your gums.
Cleanliness:
You'll remove Invisalign aligners to brush and floss your teeth, which makes it easy to maintain your usual oral care routine throughout the whole teeth straightening process.
Keeping your aligners clean is easy: Just rinse them off whenever you remove them, and make sure to clean them every day using the Invisalign cleaning crystals or by brushing them.
Saving Time:
With metal braces, there's a significant time commitment because you need to see the orthodontist for tightening frequently. With Invisalign, you have everything you need at home. You simply switch out the aligners every week or two based on your treatment plan. You'll only need to visit the Gellerman Orthodontics office every 8-10 weeks for check-ups with Dr. Gellerman, and the appointments only take a few minutes so they can even fit into your lunch break.
Eating What You Like:
Metal braces wearers have to make some major changes in the way they eat, like staying away from anything that's too hard, chewy, sticky, or crunchy. This often means metal braces prevent you from enjoying many favorite foods. Fortunately, Invisalign wearers have no such worries. You take the aligners out every time you eat or drink, so you can keep eating what you want.
Fast Results:
Invisalign can put you on the fast track to a straight smile. The average treatment time is just 12-18 months, which may even be faster than metal braces. You can even speed up the process with AcceleDent Optima treatment.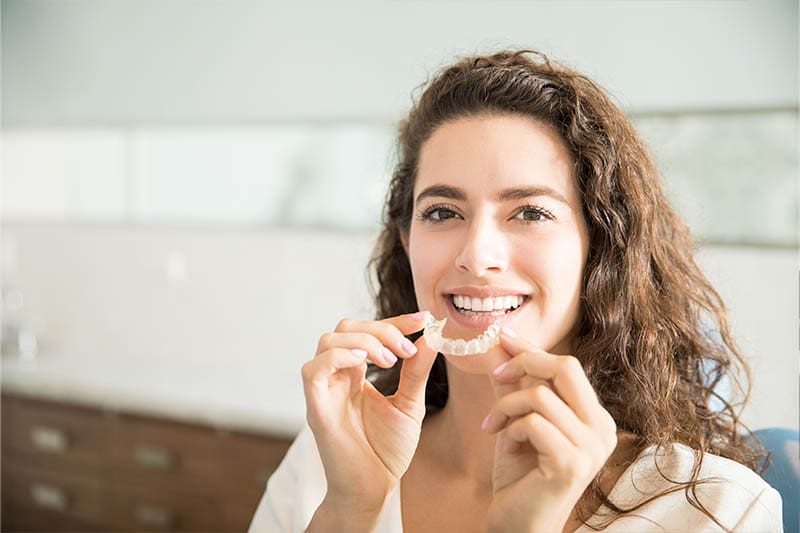 Why Should I Choose Gellerman Orthodontics For My Adult Invisalign Treatment?
When you're considering Invisalign treatment, it's vital that you choose a highly skilled and experienced orthodontist who has special training in Invisalign — which is why Gellerman Orthodontics is a perfect place to get Invisalign treatment! Invisalign named Dr. Inna Gellerman as a "Top 1% Provider," honoring her as one of the top 1% of all orthodontists across the entire United States.
Huntington area patients also say that Dr. Gellerman is the best: She has five-star ratings on all the major review sites, including Google, Yelp, and Facebook. As a highly rated Invisalign provider with years of experience in designing and implementing customized treatment plans for patients of all ages, Dr. Gellerman understands the unique challenges that adults face during orthodontic treatment, and she's here to ensure that your Invisalign treatment is a stellar success.
The Cost of Invisalign
Thinking about Invisalign Teen? It's a convenient, easy, and fast way to straighten your teeth, but you might be wondering about the cost. Dr. Gellerman can give you a specific price estimate based on your teeth straightening needs, the amount of aligners you need, and other factors specific to you.
Call the office today or get in touch online to learn more about Invisalign for adults!