What is Invisalign for Teens?
Invisalign Teen is an invisible braces option, made especially for teenagers. Instead of metal brackets and wires, Invisalign Teen consists of transparent ultra-thin plastic trays, which are called aligners. Gellerman Orthodontics is your Huntington Invisalign Diamond Plus Provider. The aligners mold to your teeth to move them gradually until achieving a straight smile.
The original Invisalign braces were so popular with both adults and teenagers that Invisalign decided to create an Invisalign system geared specifically towards the unique needs of teenagers. Invisalign Teen can help teenagers with all types of bite problems to straighten their teeth with a minimum of stress and trouble.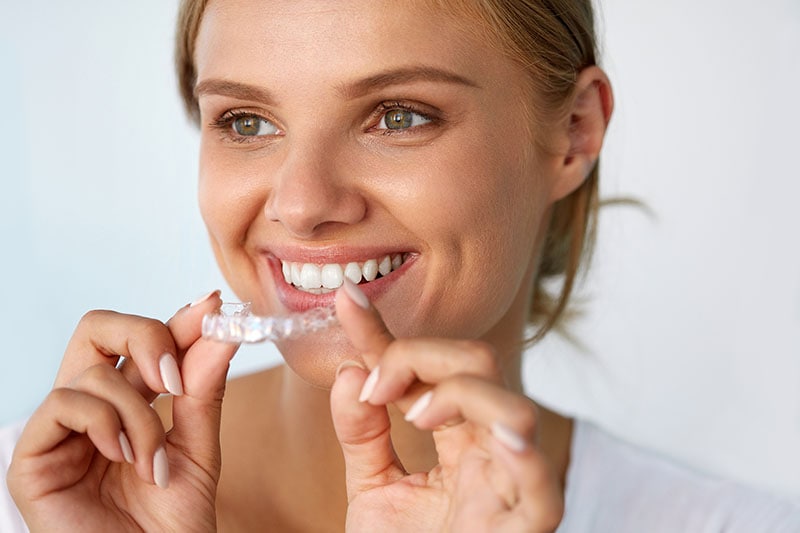 Benefits of Invisalign for Teens
There are many reasons that today's teens love Invisalign Teen so much, including:
Aesthetic design
One of the main reasons that many teens dread teeth straightening is that they're embarrassed at the thought of a "metal mouth." Invisalign completely removes that concern because it's invisible plastic that fits the exact dimensions of your mouth. Teens love that they can straighten their teeth without anyone knowing about it!
No wires
Teens often hate the idea of metal braces because of the comfort factor, too. Those metal wires can poke and prod your mouth tissues painfully sometimes, and many teens worry about broken wires as well. Invisalign neatly bypasses these worries because it contains zero wires, just smooth plastic (and possibly tiny tooth-colored attachments made of dental bonding material to help keep the aligners working well.)
Fewer appointments
Most teens today lead busy lifestyles — and between school, social commitments, family time, sports, and other activities, they want to spend as little time as possible dealing with their teeth straightening. Good news, though: Invisalign requires fewer appointments than metal braces do. Usually, it's just one brief check-up every 8-10 weeks.
Less Food Restrictions
With metal braces and other orthodontic appliances, hard, sticky, and chewy, foods are all off-limits, as are foods that you have to bite into, such as apples or corn on the cob. With Invisalign, all of those foods are no problem at all. You just remove the aligners for meals and snacks. Teens love the fact that they can still enjoy popcorn and all their other favorites without compromising their teeth straightening.
Easy Oral Care Routine
Brushing and flossing with metal braces and other orthodontic appliances can be quite a challenge — and it takes lots of extra time, too. Teenagers tend to stick with a consistent oral care routine when it's simple, and Invisalign is as simple as it gets. Since you remove the aligners to brush and floss, it's quite easy to keep teeth clean.
How Does Invisalign Work?
At Gellerman Orthodontics, teens start with an evaluation with Dr. Gellerman. She uses a high-tech 3D digital mapping system to plan Invisalign treatment. You'll see the projected results before your treatment starts.
After your Invisalign aligners are custom made in the Invisalign laboratory, Dr. Gellerman verifies a perfect fit. You'll switch out the aligners every one to two weeks, depending on your specific Invisalign treatment plan. Just as with regular Invisalign, teens wear Teen Invisalign 20-22 hours a day to steadily move teeth into optimal alignment.
Most teens wear Invisalign Teen for around 12-18 months in total. Your treatment time could be faster than expected with the help of attachments or AcceleDent Optima.
Invisalign Teen includes a couple of extras that aren't part of traditional Invisalign treatment. The compliance indicators are tiny dots on the back of the Invisalign Teen aligners. They fade from blue to white when the aligners are worn consistently, which helps teens verify that they're wearing the aligners enough hours per day. The other difference is that Invisalign Teen includes extra aligners, since teens may be more likely to lose or break aligners due to their active lifestyles.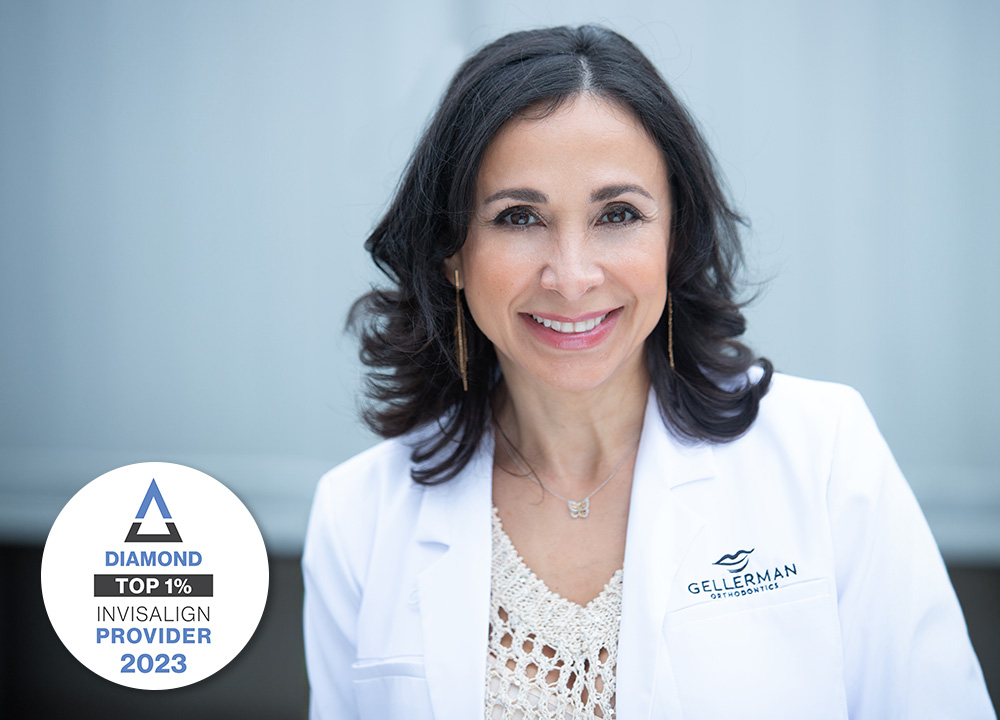 The Gellerman Difference
When you get Invisalign Teen at Gellerman Orthodontics, you receive the very best in personalized orthodontic care from an Invisalign specialist. Dr. Inna Gellerman was named a Diamond Plus Provider by Invisalign, which means that she's ranked in the top 1% of orthodontists nationwide. Patients praise Dr. Gellerman's dedicated and caring manner in her many 5-star reviews.
Cost of Invisalign
Thinking about Invisalign Teen? It's a convenient, easy, and fast way to straighten your teeth, but you might be wondering about the cost. Dr. Gellerman can give you a specific price estimate based on your teeth straightening needs, the amount of aligners you need, and other factors specific to you.
Get in touch with a member of the friendly Gellerman Orthodontics team to arrange your Invisalign Teen consultation today.