How to Choose the Best Orthodontist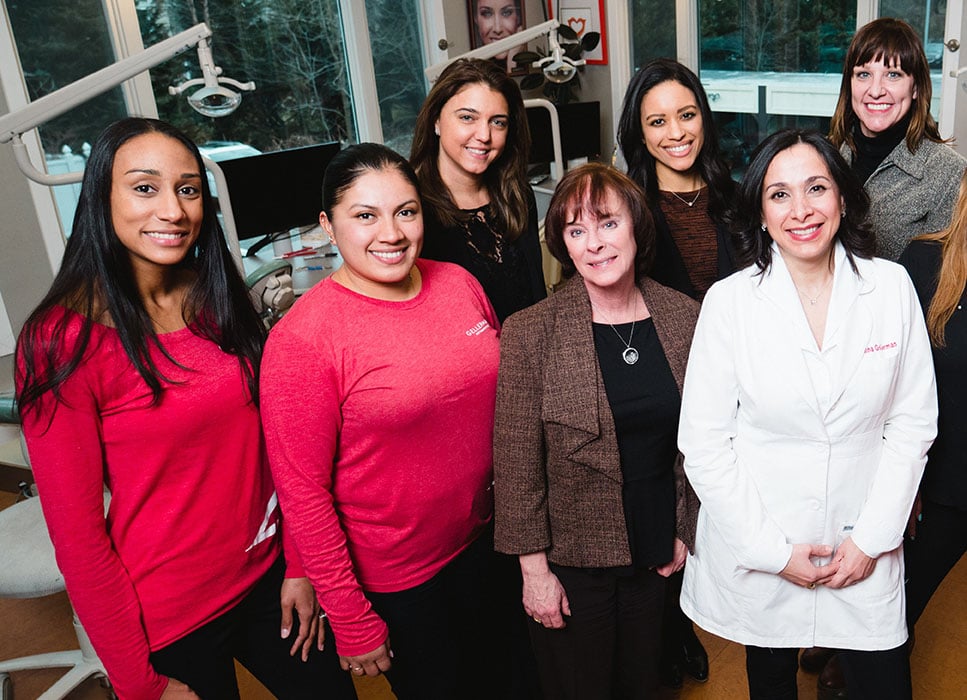 Choosing the best orthodontist for you and your family is an important decision. The best orthodontist will have the extra clinical training and experience and offer the latest in orthodontic treatment options. You want to be confident of getting the best possible care and the highest quality of service. You'll want to be sure that you are comfortable with the orthodontist and the people who will be providing your care.
That's why we are sure you'll want to choose Dr. Inna Gellerman to be your orthodontist. Here are some questions to ask your orthodontist:
1 – Are you Board Certified by the American Association of Orthodontists (AAO)?
A Board-Certified orthodontist has had additional education, maintained the highest clinical standards, and every ten years, undergoes a rigorous review of their skills. Not every orthodontist is Board Certified – only the ones who want to be the best they can. Dr. Gellerman has maintained her board certification as long as she has been an orthodontist – she believes it is an important to the quality of patient care.
2 – What kind of patients do you treat?
Gellerman Orthodontics treats children, teens, and adults.Dr. Gellerman offers a free orthodontic evaluation for young children at age 7, as recommended by the American Association of Orthodontics. Early treatment can prevent the need for more intense treatment later in life, like having teeth pulled. Most kids don't need early treatment, but it's a quick, free visit and worth the time. Our oldest patients are in their 80s!
Most of our patients are teenagers and adults who want to look their best with a spectacular smile. Adult patients want a great smile and to maintain optimal dental health. They appreciate the wide range of options offered, including Invisalign, Invisalign Teen, ceramic, metal, or lingual braces.
Dr. Gellerman offers free consultationsfor patients, including a free set of digital images and recommendations for treatment. The free consultation is a great opportunity for people to see how the clinic and the office works, ensuring that when the patient comes in for their first treatment, they'll know exactly what to expect.
3 – Why is Dr. Gellerman the best source for Invisalign?
Dr. Gellerman has been recognized by Invisalign as one of the nation's top providers for many years. In 2020, she attained the top 1% Diamond Levelstatus, the top ranking for Invisalign. That ranking means that out of all the orthodontists and dentists who offer Invisalign to her patients, she is in the top 1%. Wouldn't you rather have an orthodontist who is the most experienced and highly rated?
Dr. Gellerman's top ranking reflects several important reasons why she is the best choice for treatment with Invisalign:
Experience of treating many patients, including complicated cases
Exceptional understanding of how Invisalign moves teeth
Dedication to make your smile being the best it can be
4 – How does Dr. Gellerman and the team keep up with new treatment and care?
Gellerman Orthodontics is known for providing state of the art orthodontic care. Under Dr. Gellerman's expert leadership, clinical education and patient service training are part of the team's regular schedule. When in-person training and conferences were suspended because of COVID-19, the team continued their training via virtual conferences.
Dr. Gellerman has specialty training in orthodontics. After completing dental school, she was accepted to the Orthodontic Doctoral program at Stony Brook. But her education and desire to be the best orthodontist did not end there.

Dr. Gellerman was recognized for being one of only six dentists in all of New York State to go above and beyond in Continuing Education when she attained 1,000 hours of CE credits from the New York State Dental Association. The requirement for orthodontists was 50 hours, but Dr. Gellerman completed 1,000. This is an example of the commitment that Dr. Gellerman and the Spectacular Smiles team has made to not just meet, but to exceed requirements in ongoing education and training to ensure that her orthodontic patients receive the best possible care.
5 – How do I start orthodontic treatment with Dr. Gellerman?
Orthodontic treatment can be started in a few different ways. First, visit www.drgellerman.com and select the best appointment for you. Through the website, you may choose to either have a free consultation (including digital images) in the Huntington office or to have a virtual consultation.
During your free consultation, you'll discuss the orthodontic treatment that Dr. Gellerman recommends for you. You'll be able to make a decision and if you are in the office, you may be able to start your treatment on the very same day.
Dr. Gellerman and the Spectacular Smile team will get you set up with future appointments and provide you with all the information you need.
Want to know more? Visit www.drgellerman.com. We look forward to meeting you!